The Hassle-Free Way to Track Rewards
Promotion Tracking, part of the Beacon PRO+ digital suite, makes it easy for contractors to work more efficiently and make more money. Keep track of manufacturer promotions and view projected rebates with the click of a button.
Grow the Business
Participating in manufacturer promotions allows you to make more money, plain and simple. What better way to help grow your business than to get money back? The hardest part is finding qualifying invoices and submitting them to the manufacturer. Beacon's Promotion Tracking is the hassle-free way to track your rebates and see when they are on their way back to you.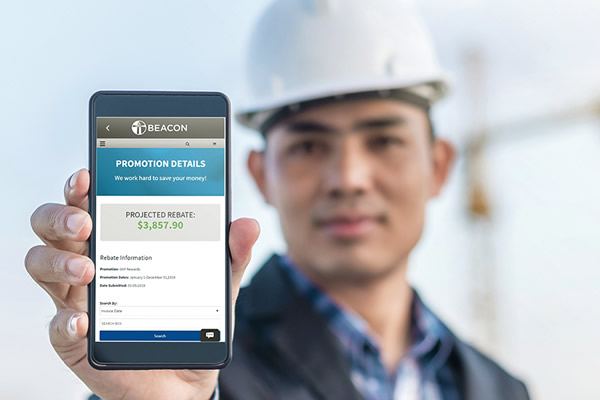 The Right Choice
Promotion Tracking is not only easy, but it's also free with Beacon PRO+. Why is Rebate Tracking right for you?
Free: No additional costs.
One-time Signup: Simply fill out the form at the start of a promotion and Beacon will track your rebates for the entire promotion.
Projections: See your projected rebate amount.
Account Management: View invoices with line item detail and verify you are getting back all the amount you qualify for.
Save Time: No more tracking down invoices; it's all taken care of.
Beacon currently tracks GAF, TAMKO, CertainTeed Roofing, IKO, Cornerstone, LP, and Owens Corning and we are always adding more manufacturers.
Beacon PRO+ offers you so many ways to work smarter. Enroll today and start tracking rebates!