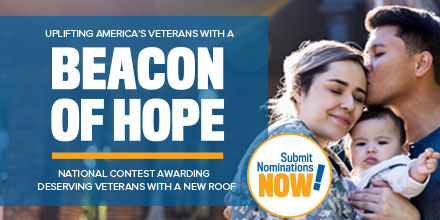 Established in 2019, this program was created to give back to our Veterans a basic need: a safe place to live. We hope to inspire our employees, customers and communities to come together to assist us in providing deserving veterans a "beacon of hope."
Beacon of Hope is a nationwide contest that rewards deserving Veteran homeowners and Veteran organizations with new roofs. As part of Beacon's commitment to giving back to its communities, the contest is open to all military veterans, provided they have received an honorable or general discharge. The public can nominate an American veteran facing adversity on the Beacon of Hope website or send an email to beaconofhope@becn.com. Nominations must include a photo and brief biography of the veteran, including their military branch, years of service, and why the nominee deserves a new roof. We are partnering with veteran-friendly roofing companies to deliver and install all necessary exterior roof repairs/replacements.
We do not just provide roofs on a house. We help to provide safe homes for deserving veterans who served and protected our country.
The Washington Commanders support Beacon of Hope.
Actor/Director Don Johnson gives a shout-out to our Veterans and presents the Beacon of Hope for 2021.
Actor/Director Don Johnson thanks our Veterans and announces the 2021 winners.
Our Beacon of Hope winners from 2020.